Taunton Paper Shredding can provide several different options for your document shredding, whether you're an individual with a lot of papers to shred to a business that need document pickup or shredding on a regular basis.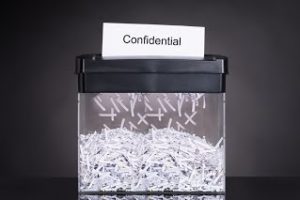 Shredding professionals can come to you anywhere in Massachusetts' Bristol County and shred your documents while you watch, or they can pick up your documents and shred them at a secure Taunton facility. Your confidential documents are shredded quickly and effectively without interrupting your daily business.
Let us help save you time, expense, and man hours, and give you a cost-effective option to maintaining electronics, space, and employees. Why take a risk? Shred it. You'll receive a certificate of destruction for every job.
So What Items Do I Keep, and What Documents Should I Shred?
Every business has documents that should be stored and eventually shredded on a regular basis. Here are some things that we recommend that every company shred- keep in mind this is just a short list, and there's dozens of other documents we haven't mentioned here.
Employee-Related Information:
Job application
All Payroll documents
Outdated medical records
Training manuals
Performance appraisals & disciplinary reports.
Any document that contains employee addresses and personal information
Legal Documents and Documentation:
Expired and Active Contracts
Insurance Agency Records
Legal correspondence
Accounting:
A/R and A/P Information
Bank Statements
Credit Card Statements and Receipts
Internal accounting reports
Customer lists
Unused Checks
Operations Information:
Supplier Lists
Proprietary Data
Corporate records
Procurement Requests
Purchase Orders
Sales/Marketing Materials:
Drafts of sales strategies
Prospect lists
Marketing related documents
Customer lists
These are just a few of the items in your office that can be used against you—implement a document destruction plan to ensure that your information is completely destroyed before it's leaked to your competitors or identity thieves.
Get Secure Mobile and Offsite Shredding Services in Taunton, MA Today
Get free, no obligation quotes on onsite shredding, offsite shredding, and hard drive destruction in Taunton and throughout Bristol County. To learn more about the secure services available through Taunton Paper Shredding, just give us a call at (508) 692-9815 , or fill out the form to the left.