Companies throughout Bristol County can use document scanning to convert paper documents to digital documents. Electronic documents are one of the easiest types of document to manage. They're easy to access, allow access for multiple users (sometimes simultaneously), and can be found easily with a simply keyword search.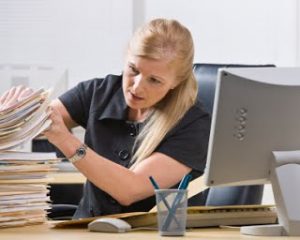 Taunton Paper Shredding offers document scanning services throughout Massachusetts. You can even increase security by restricting access to any document containing personal information or company secrets. Taunton Paper Shredding's contractors can help you scan your documents, then shred them for you while you watch.
Every record has a lifespan—with an electronic document management system, you can set up documents to be automatically erased once they reach their necessary retention time.
Create A Document Retention Plan to Figure Out What to Keep and What to Shred
Before you consider document conversion or document scanning, it's important to develop a document retention policy specifically for your Taunton company.  It should outline how long to store each type of document and when to dispose of it. Then, you should determine what employees require access to which documents. Once the plan is in place, have your employees organize their files and records using the company document management policy and destroy documents past their retention requirements.
The next step is to take unwanted and expired documents and shred them. You can use an onsite or offsite shredding Taunton program that provides shredding containers to your company, or schedule a one-time purge to have them shred all your documents at once.
After that, you need to figure out what documents will be most useful in the future, or used frequently. Then, it's time to scan!
To digitize your documents, you can purchase equipment and give the work to an employee, or you can use a document scanning service like the ones offered by Taunton Paper Shredding. We'll help you transition to a paperless office and select the right electronic document management system that works for your business.
Taunton Paper Shredding makes the digital conversion project easy by partnering with the best scanning service providers with employees who perform this work daily. They will prepare the documents before shredding and then provide indexing after.
Get Free No-Hassle Quotes on Document Scanning in Taunton, MA Today!
Taunton Paper Shredding provides reliable document scanning options to help your business convert to a paperless office. For a free, no obligation quote on your project anywhere in Massachusetts, give us a call at (508) 692-9815, or request a FREE quote today.