Identity theft is becoming a tremendously common problem.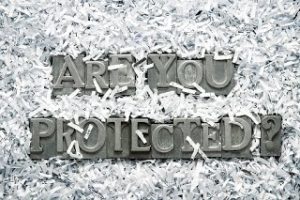 You hear about data breaches and customers getting their personal information exploited daily. Taunton businesses and individuals need to be a bit more conscious on how and where they send their personal information- especially when they're disposing of documents that could have information that's useful to identity thieves.
One of the best ways to protect your personal information is to ensure that any document that leaves your home is shredded appropriately. Here are some of the advantages of residential paper shredding in Taunton.
Advantages of Taunton Paper Shredding Residential Shredding Services
Shredding documents with a store-bought shredder can be a nightmare. You have a stack of documents to shred, and it takes forever to shred them. Your $20-$40 shredder gets jammed; it overheats; it can only shred 3-5 sheets of paper at a time, and if there's staples or paper clips, the whole show comes to a standstill while you pull on the pieces of paper that just won't shred easily.
On top of that, it makes a mess. If you happen to forget to put a trash bag in the shredder, and accidentally spill it, there's more time wasted vacuuming and cleaning up. That's where Taunton Paper Shredding can help you.
The biggest advantage of hiring a residential paper shredding company is how much time they can save you. Instead of taking hours (or days) to shred your documents, they can take care of your entire project in minutes. You also don't have to worry about security—no one comes in contact with your documents as they go into the shredder, and your papers are co-mingled with thousands of others and then recycled into new paper.
What Needs to be Shredded?
If you're not sure what you should shred, shred everything. It might seem like overkill, but having your identity stolen takes much more time and has a lot more headaches than risking it. Anything that has personally identifiable information needs to be disposed of securely and properly. You can check out our lists for businesses here to get an idea, but credit card bills, bank statements, legal documents, ATM receipts, pre-approved credit card applications, and anything with your social security number should be shredded completely.
Pricing Options
The cost of your project really depends on several factors—how much you have to shred, where you're located in Taunton, and what type of service you're looking for. We suggest getting multiple quotes for your project—choose between mobile shredding, where someone comes and shreds your documents at your curbside, or offsite shredding, where they pick up the papers in a secure bin and transport them to a centralized shredding plant to shred them.
To get pricing options for your project from multiple shredding companies in Taunton and Bristol County, fill out the form to the right or give us a call at (508) 692-9815.
Get Secure Mobile and Offsite Shredding Services in Taunton, MA Today
Get Free, no obligation quotes on onsite shredding, offsite shredding, and hard drive destruction in Taunton and throughout Bristol County. To learn more about the secure services available at Taunton Paper Shredding, just give us a call at (508) 692-9815, or fill out the form to the left.