Onsite shredding, or mobile shredding, is your saving grace if there is little to no time to leave the office.  Additionally, there is 100% confidence that all documents are shredded into a thousand pieces before leaving the premises.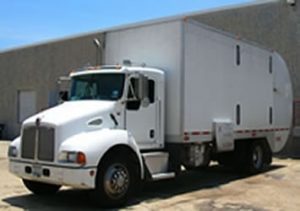 A mobile shredding truck comes to your Taunton location and shreds the documents onsite.  There is no limit to where the trunk can go; they can travel to your office, your home, or even a storage unit. Mobile shredding trucks are completely self-contained - they'll shred your documents in no time.  It will save you countless hours instead of it taking a month to do the same job with a basic desk shredder.
Get free, no obligation quotes on onsite shredding services in Taunton and surrounding areas. If you need to witness your documents being shredded, then an onsite shredding service is for you. There are mobile shredders anywhere in Taunton that can shred anything from a file cabinet to thousands of boxes.
You can also request ongoing scheduled onsite shredding. We'll provide you with locked cabinets for business, and shred them when your bins are full while you watch. It's an easy way to get your shredding done securely and quickly without even leaving your office chair.
Here's How Onsite Shredding Works with Taunton Paper Shredding
Save up everything you need to shred, and don't worry about staples, paper clips, or hanging folders.
A driver comes to you- the documents are shredded into a secure compartment of the truck. You can observe the whole process if you choose.
When the job is complete, you are given a certificate of destruction detailing the amount shredded, the date, and any other required information.
The shredded paper is then compacted, pulped down, and recycled into new paper.
Mobile shredding helps you get secure, witnessed shredding for sensitive documents, items with PPI, and negotiable instruments. Get a free quote today!
Get Free, No-Hassle Quotes on Onsite Document Shredding in Taunton, MA Today!
Taunton Paper Shredding specializes in helping you find a reputable mobile shredding contractor for your business anywhere in Massachusetts. To learn more about the secure mobile services available at Taunton Paper Shredding, just give us a call at (508) 692-9815, or simply request a FREE quote today.