Hard drives and electronic media hold a thousand times more information than a folder of paper- and they're easy to steal or conceal. To make sure that your Taunton company's critical business information isn't leaked to an identity thief or corporate spy, it's vital to ensure your hard drives are completely destroyed and 100% unrecoverable before they leave your possession.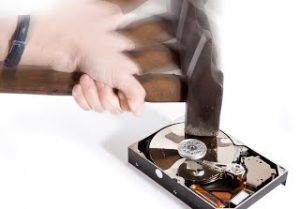 Not only are there state and federal laws that carry hefty fines if personal information is revealed, deleting files isn't sufficient enough to destroy the information.
Physically destroying the hard drive is one of the only sure-fire ways to ensure your information isn't going to be leaked. Taunton Paper Shredding offers secure hard drive destruction options that can be done onsite or at a secure plant. The more precautions you take, the less chance your company will be in the news for providing personal information to unsavory folks.
Get Free, No Obligation Quotes on Hard Drive Shredding in Taunton, MA
Taunton Paper Shredding offers secure hard drive shredding service options anywhere in Taunton and surrounding areas. To learn more about the secure hard drive shredding services available through Taunton Paper Shredding, fill out the form to the left or give us a call at (508) 692-9815.